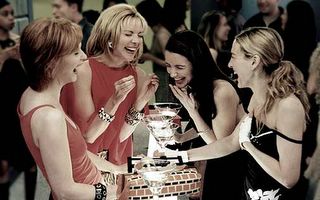 Cleveland shopping report:
Cavewoman and I began the day at the infamous T J Maxx. This has pretty much become our routine. The store had been rearranged so I stood at the door trying to get my bearings. Patti dived right in. The beauty section was pretty much a bust except for my spotting of Z Bigatti cream that normally retails for $155. The TJ Maxx price was less than $20.
The purse section was overflowing with pink coach bags. Patti found me the Kors bag that I have been coveting. She owns it and has received the most compliments on it. It is a lovely teal-ish leather with metal studs scattered on it.
I caved.
I bought holiday bags and Patti found the most incredible wrapping paper I had ever seen.
We left and went straight to Beachwood.
We played in the Nordstorm beauty department. Patti did damage at the Chanel counter while I experimented at Stila. No one bothered me which I loved.
My goal was gray eyeshadows. I decided on Twilight (a shimmery silver), Shore (a shimmery heather gray) and Diamond Lil. The Lil was sold out...everywhere.
I can not say I am surprised. It is a damn fine shadow. Instead of the Diamond Lil I chose Heather. It is a pale pink.
I also finally purchased the Philosophy Microdelivery Peel and DDF Glycolic Exfoliating Wash. I am hoping for a skincare miracle. One of my new years resolutions is starting a successful skincare routine. I want dewey perfect skin with a lovely glow.
The big purchase was the J Crew coat. I loved the tailoring and pretty dutch blue color. Cavewoman loved its hong kong finish.
It arrived yesterday and it looked amazing on. I recommend it to everyone.
It does not look like much on the hanger but transforms on the body. I am not exaggerating when I say...it looks like I lost 10 pounds when I put it on.
http://www.jcrew.com/catalog/product.jhtml?id=prod72224641&catId=cat82156
It comes in jade, chocolate brown, black, and blue.
We ended the night with dinner with Griff and Tussah from makeupalley. We ate like kings at a 5 star mexican eatery. We had lime flavored rice with seasoned chicken/beef or pork, a dallop of rich sour cream, corn salsa, and lots of cheese. Our cocktail was a chilled diet coke with fresh limes.
http://www.chipotle.com/